I got this very high quality but so very outdated dining room set from my grandma. I just love the furniture, but let's face it...it was kind of an eye sore.
(of course I forgot to take a before picture till it was in the garage ready for it's makeover :)
It's AMAZING what a fresh coat of paint and some new upholstery can do! I bought all of my supplies at the
re-store
: primer, black paint, and polyurethane (several coats to prevent chipping). And I got the upholstery fabric at JoAnn's (using a 40% off coupon of course). All in all it
only

cost me about $30

.
I doubt you could find a table that cheap anywhere (not even craigslist, trust me I tried :)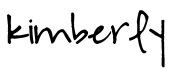 Linking up to these fun parties: